FutureEnergyBonds Registration
Thank you for your interest in FutureEnergyBonds.
Go through the steps of the process to register immediately.
For UK residents please visit www.FutureEnergyFund.co.uk
Encrypted connection
This website utilizes an encrypted connection.
Choose your number of FutureEnergyBonds
In this step you choose the number of FutureEnergyBonds for which you wish to register.
Full registration completed within 5 minutes. You may make the payment later.
FutureEnergyBonds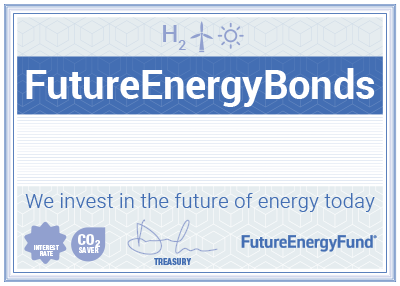 Would you like to register to 250 FutureEnergyBonds or more? In this case, we would like to ask to contact us directly. You can reach us by phone on: +31 (0) 26 55 55 50 0 , by email on info@FutureEnergyFund.com. Our office is open during office hours between 9 a.m. and 5 p.m. CET.
Do you require assistance?
Please feel free to contact us by telephone (during office hours from 9 a.m. to 5 p.m. CET) or email at your convenience. Our client services team is available at your disposal and will be pleased to assist you: